SCIAF wants to bring about change.
We want a fairer world in which everyone is equal and free from poverty – and one of the ways we do this is through our advocacy work. By advocating for change we tackle the deeper issues which keep people poor. We do this here in Scotland and the UK, and we do this in collaboration with our partners overseas and with our sister agencies and networks.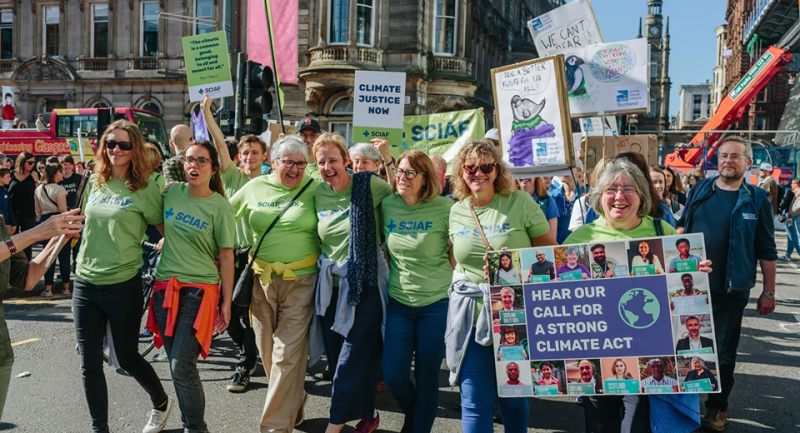 Our four pillared approach to change
Monitoring the policies and practices that influence the lives of those we serve overseas
We monitor policies and practices impacting the lives of those we serve overseas, from the Scottish and UK Government to multilateral bodies like the United Nations, public bodies, and private sector companies.
Using what we know to influence the change we want to see
Our investments in analysis and research equip us with effective tools for bringing about desired changes. This involves identifying influential targets and activities like providing inputs to inquiries, holding lobby meetings, and producing policy briefings.
Engaging and motivating our loyal supporters and campaigners to bring about change
we engage our passionate supporters through actions like signing petitions, contacting influential figures, and participating in mass campaign activities. Collaborating closely, we strive for maximum effectiveness in our collective efforts, whether through e-actions or joining marches and lobbies.
Supporting our partner organisations to influence the policies and practices that affect them
Acting as a global bridge, we ensure partner voices are heard through media and relationships with officials, aiming to create a fairer, more just, peaceful, and environmentally sustainable world.
Loss and Damage
As a result of human-induced climate change, droughts, floods and storms are becoming more extreme, and are happening more regularly than ever before.
Together we campaign to promote justice and build peace, so that we can all live in His love and justice, free from fear and persecution.

Find, view and download reports, resources and publications by SCIAF and our partners.

Keep up to date on all things SCIAF and find out about the work that we are doing right now.