771 million people don't have access to clean water. That's 1 in 10 people.
Without water, life becomes a daily battle for survival. People are forced to walk miles each day to gather water for their families. The water sources they travel to are often unclean, or even dried up altogether.
How serious is the problem?
Water is life. But around the world, families without clean water are trapped in a deadly cycle of poverty, poor health and premature death.
Without clean water, people are frequently unwell.
The only water some families can collect is dirty, full of bacteria, and dangerous to drink. From cholera to diarrhoea, the threat from unclean water is very real – death from water-borne disease is common.
Without clean water, the burden to find water often falls on young women and girls.
Children – and especially girls – miss school collecting water, or through ill health. As a result, they do not learn the skills they need to break the cycle of poverty. 
Without clean water, people spend their days carrying heavy loads, rather than working for their families and building a better future.
It's gruelling and often dangerous work. In addition, without water, crops wither and livestock die. 
1 in 10
people around the world don't have access to clean water
200 million
hours are spent collecting water each day
Every minute
a newborn dies from infection caused by unsafe water and an unclean environment
Give the life-saving gift of clean water
Dirty water devastates lives. Clean water changes them.
SCIAF is already working in many of the world's poorest countries to tackle both the causes and consequences of dirty water. We work with people in the hardest circumstances, so they can overcome their daily struggles, and the structures of injustice that make and keep them poor.
Our local partners not only work with communities to meet their most pressing needs today but build their resilience so they can provide for themselves and their families into the future.
Our three pillared response
Community water sources
We build and repair community water sources such as pumps, wells and reservoirs, so it's easy to collect clean water to drink, wash and cook with. This means people, and especially women, don't have to walk miles for water, which frees up more time for themselves and their families.
Irrigation systems
We develop irrigation systems in areas devastated by drought, so farmers can water their crops and cattle even when the ground is parched. Families can then put food on the table, and money can be earned to purchase essentials.
Hygiene facilities
We stop people getting sick because of dirty water by installing handwashing facilities, proper toilets, and by providing water filters. This prevents diseases spreading, which keeps people alive, families together and children healthy.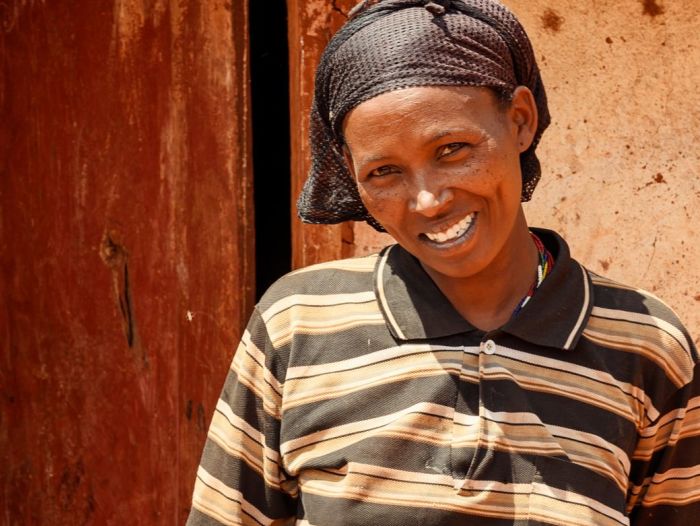 Bokayo's story
Bokayo lives in Ethiopia, and has five children. She used to walk eight hours a day to the nearest water source to collect water from a stagnating river.
Thankfully, land in Bokayo's village was excavated to create a new lake as part of a SCIAF project. Capturing water from the hills during the dry season, it is now a vital main water source for the village. Once her jerry can is filled she returns to her home within 30 minutes. By using a SCIAF provided water filter, the water is safe for her and her family to drink.
"Life is manageable now, and I'm so happy. It's been life changing not just for my family, but our entire village."
SCIAF works in a range of countries across the world to create change that lasts a lifetime.

Read and download SCIAF resources.

Find out more about our work around the world.