World hunger is accelerating at a devastating rate.
Although hunger is not a new problem, conflict, climate change, and now the COVID-19 pandemic are causing a deadly hunger crisis that's left 45 million people on the brink of starvation. Millions of people are facing the worst hunger crisis the world has seen in decades. For those living in the world's poorest places, the inability to access, grow or afford food has trapped them in a deadly cycle.
Hunger kills the poorest people first. We must not forsake them. We must act now.
How serious is the problem?
World hunger is on the rise for the first time in decades. In 2015, many of the world's greatest powers committed to the UN Sustainable Development Goal of zero hunger by 2030, yet recent reports have called the goal "tragically distant".
811 million
people are facing hunger around the world
60%
of those suffering from chronic hunger are women and girls
Nearly half
of all child deaths worldwide are from causes related to hunger and malnutrition
We don't just feed families, we nourish communities.
SCIAF is already working in many of the world's poorest countries to tackle both the causes and consequences of hunger. We work with people in the hardest circumstances, so they can overcome their daily struggles and the structures of injustice that make and keep them poor.
We actively serve those forced to the fringes of society and deprived of opportunity. For decades we've walked with people whose entire livelihood can wither in a drought or be washed away in a flood.
Our local partners not only work with communities to meet their most pressing needs today, but build their resilience so they can provide for themselves and their families into the future.
Our three pillared response
Immediate access to life-saving food and financial support
When a crisis hits, we ensure families have food to eat and the money they need to survive.
Access to the seeds, tools and training needed to grow food that's resistant to a changing climate
We're helping families to grow food, whatever the weather. We work with them to establish vegetable gardens, providing drought resistant seeds, helping to diversify what they grow and how they farm, and installing solutions like solar irrigation pumps to water crops when drought hits. At the same time, we're working to address gender inequality in families, so that the benefits can be equally felt by all family members.
Providing the support needed to increase income, save money and provide a secure future
By working with communities to set up savings and loans groups, providing training and support on growing a business and diversifying their income, we're helping families to create a livelihood to support themselves long into the future.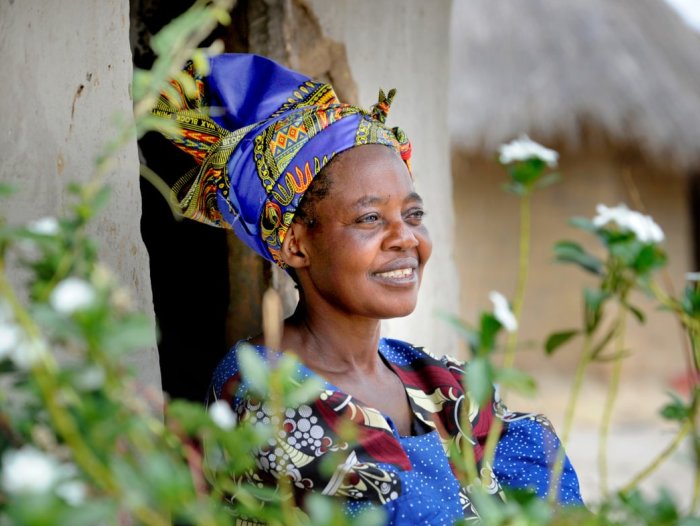 Kabika's story, Zambia
"We used to eat once a day. We grew cereal crops but other crops didn't adapt in the area. I used to sleep on an empty stomach. It was painful – my heart was bleeding. I couldn't feed my children. Things were very tough.

"But now thanks to SCIAF I now have a kitchen garden, I grow vegetables using organic fertiliser that I make myself. Chemical fertiliser was too expensive, we couldn't afford it, but now we can grow using organic fertiliser. I also make green charcoal and sell them for a profit. This has changed everything for us.

"God has answered my prayers."
SCIAF works in a range of countries across the world to create change that lasts a lifetime.

Read and download SCIAF resources which focus on the topic of Hunger.

Find out more about about our work around the world.