Russian aggression in Ukraine has forced more than 13 million people from their homes, and resulted in many thousands of civilian casualties. These numbers continue to grow as the reverberations of war continue to cause immense suffering for the people of Ukraine.
The need for emergency food, water and shelter remains high, as does the requirement for child support services and psychosocial counselling. The conflict is causing widespread human suffering as families are separated and homes and livelihoods lost.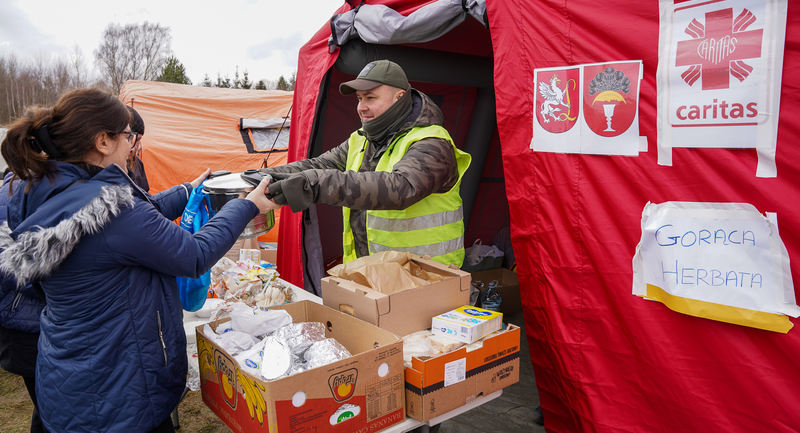 Through the Caritas International network, we're able to get to the most difficult to reach places and provide life-saving support. We've been providing immediate relief in Ukraine since Russia first invaded, including communities close to the frontline. We've also been working in neighbouring countries to support refugees who have fled the fighting.
Focus of our work
Emergency supplies:

Providing essential support to communities, including food parcels, warm clothing, blankets, cash, hygiene supplies and medicine

Shelter:

Providing short term shelter and medium term accomodation for those who have been displaced and are most at risk

Psychological support:

Organising

online and in-person psychological counselling for those suffering the trauma of war

Anti-trafficking:

Providing awareness about trafficking to protect the most vulnerable.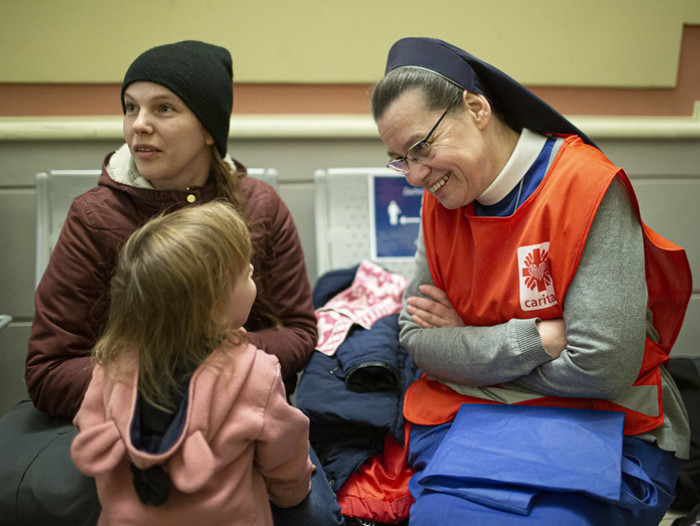 Sister Paula's Story
When the war in Ukraine broke out, Sister Paula Yagoda fled the convent in Malyns'kyi near Kyiv. Tearfully, she told us how devastated she was that she couldn't help her community.
Together with five other Sisters, she drove to Poland where they became stuck at the border for 25 hours. Once they finally made it through, however, Sister Paula began volunteering for Caritas Poland.
Working for Caritas, Sister Paula feels needed. She carries luggage, plays with children, and travels to the border to support volunteers.
As soon as the war is over, Sister Paula will head straight back to Ukraine to help rebuild her country.
Our work in Ukraine is supported by: