Real Gifts - How it Works
Real Gifts are the Real Deal
Real Gifts make a world of difference. Unique and impactful, they're the gift that keeps on giving. No fancy frills – a simple gift to bring joy to a loved one, and provide real support to people who need it the most. They're pretty special if you ask us.
This year we've changed things up and included a card all about your gift for you to keep close - use it as a bookmark, keep it in your wallet or stick it on the fridge. Whatever you choose, it's a small card but a big reminder of all the great things your gift has done!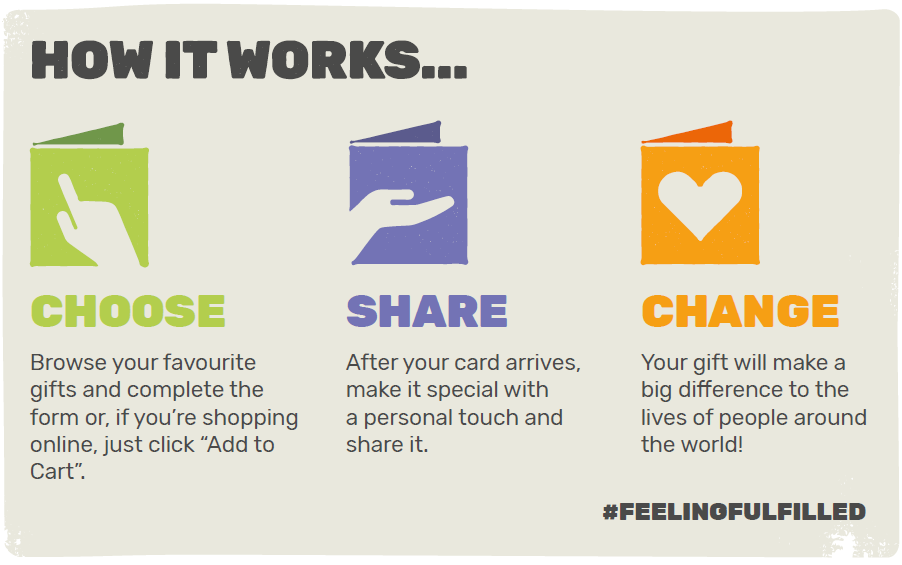 Gift types
This year, as well as receiving a physical card to write to your loved ones, we are introducing two new card types: digital downloads and e-cards! Simply choose your option when shopping.
Digital download: Have a digital copy of your card to download and either email or print to give to your loved one.
E-card (coming soon!): Choose a card, write your message and have your card digitally sent straight to your loved one's inbox.
Visit the Real Gifts Store
Every Real Gift purchased supports one of our funds which allows us to use it where it is needed most, in communities around the world.

Thanks to your generous donations, love and compassion, we've been able to give millions of people a hand up out of poverty.

There are so many fun ways you can get involved, raise money and play your part in supporting some of the world's poorest people.