Ethiopia is experiencing a devastating humanitarian crisis as a result of heavy fighting in the country's Tigray region and extreme weather, which means millions of people do not have enough to eat. Many people have lost their lives, over five million people have fled their homes, and more than 9.4 million people require emergency food. These major crises have set back several decades of strong development progress as Ethiopians have sought to establish a stable political system and thriving economy after years of civil war.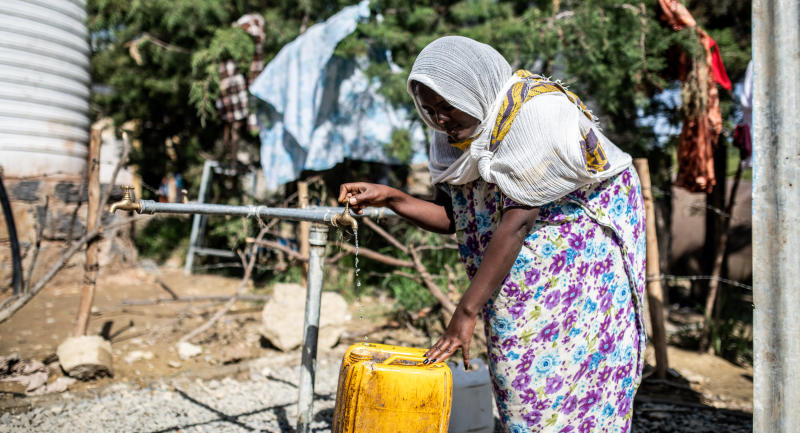 We've been working in Ethiopia for almost four decades, working in partnership with our sister agencies CAFOD and Trócaire, and alongside our local partners and the Ethiopian Catholic Church. As an important part of the local community, the Church are well placed to provide both long-term support to farming families, and emergency humanitarian assistance, including food, shelter, mattresses, financial support and other essentials to men, women and children who are suffering from extreme poverty, conflict and food shortages.
The armed conflict which broke out between regional government and federal government in the Tigray region in November 2020 forced hundreds of thousands of people to leave their homes in search of safety, and put millions of people in need of urgent and long-term support. Through local Church and aid agencies, SCIAF was able to respond to this crisis by providing emergency food, shelter, psychosocial support, and support health clinics and pharmacies.
Focus of our work
Food security:

Ensuring people have access to nutritious food all year round

Livelihoods:

Ensuring families can increase and diversify their income, providing for immediate needs and allowing them to save for the future

Emergency response:

Providing essential support to communities when hit by disasters like

conflict or

drought

Gender equality: Ensuring t

he role and voice of women is strengthened and promoted within the community

SGBV:

Provid

ing

support and protection to women and girls affected by sexual and gender

-

based violence

Disaster risk reduction: H

elping communities to prepare for and cope with disasters, minimising the risk to lives and livelihoods.
Our work in Southern Ethiopia is supported by: