Rwanda and its people continue to recover from the genocide that ripped the country apart in the mid-1990s, leaving deep levels of trauma and sexual violence. A small, landlocked, hilly country, a third of the size of Scotland but with a population three times larger, most of the population are rural and young. Although it's made remarkable progress in recent decades, over half of the population live on less than $2 a day, and struggle to grow enough food to survive.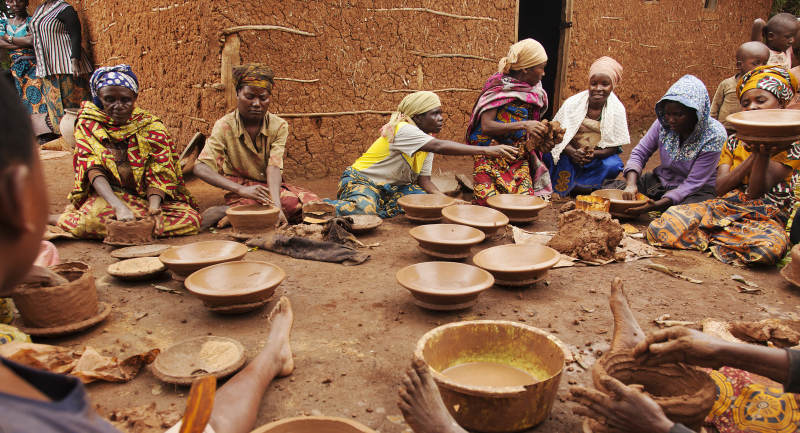 We've been working in Rwanda since 1994, supporting families to grow more food, start small businesses, access safe water and adapt to climate change. We're also tackling sexual and gender-based violence against women and marginalised people, providing services like medical care, trauma counselling and legal aid, and working with women to build their self-esteem and confidence.
Focus of our work
SGBV:

Provid

ing

essential

support and protection to people

a

ffected by sexual and gender

-

based violence

Equality: Ensuring the role and voice of women and

marginalised

indigenous groups is strengthened and promoted within the community
Livelihoods:

Ensuring families can increase and diversify their income, providing for immediate needs and allowing them to save for the future

Local advocacy:

Local partners are supported to campaign and press the government

on vital issues like

discrimination,

combatting SGBV and their rights

Disaster risk reduction:

Helping communities to prepare for and cope with disasters,

minimi

s

ing

the risk to lives and livelihoods.
A snapshot of our work in Rwanda
1994
SCIAF started working in Rwanda during the genocide in 1994. SCIAF donors gave nearly £1m for the emergency, enabling support for a number of different programmes, supporting both those in Rwanda and those who fled to neighbouring DR Congo.
2000
In the early 2000s our support focused on peace efforts in Rwanda and support for vulnerable children to access education.
2006
By 2006 we were continuing our peace education work in the nine Catholic disoceses in Rwanda, supporting community participation in the Gacaca – Rwanda's system of community justice following the genocide.
2011
We began a three-year project funded by the EU across DR Congo, Rwanda and Burundi, focused on supporting survivors of SGBV in the Great Lakes Region. Over 20,000 survivors of SGBV were supported with psychosocial support, income generation and food security initiatives.
2014
We worked with the UK government to provide livelihoods support to people in DR Congo and Rwanda - improving income and food security for 3,200 women affected by conflict.
2014
We began working on a Scottish Government Climate Justice Fund project – Water for Agriculture. Over three years, 1,330 households were supported to access water through innovations to support agricultural production across nine villages in Southern Rwanda.
2015
We began our first UK government Aid Match (UKAM) project. Over three years, 2,000 small-scale farmers were supported to grow more food for themselves and their families through sustainable farming training and financial advice.
2021
Our project with Guernsey Overseas Aid and Development Commission supported small farm businesses and improved food security for 200 households. Through education and sustainable farming, over 1000 people were able to provide food for their families and invest in their futures.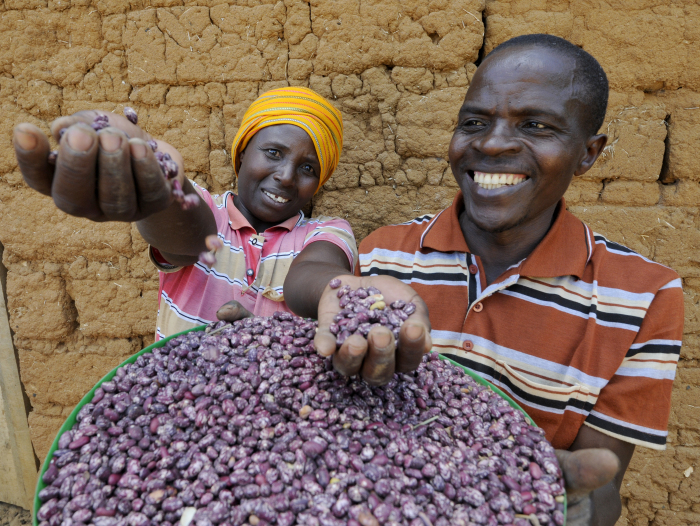 Beathe and Augstin's story
Beathe and Augstin live in the Eastern Province of Rwanda with their eight children. Augstin told us,
"Because of your help, I've cultivated in a dry place and I couldn't do that before. We used to think every harvest belonged to the men and the women had no rights. Women had to ask their husbands for everything. Being involved in the project taught us that everyone is equal to each other.

"It belongs to both of us, even my wife. Today, we complete each other. Before, we used to fight but now we share everything. We are doing it together. We talk to the other before either of us sells anything.

"Thank you very much. You've really helped us. We've moved from one level to another. I ask for blessings for you. Please continue to help us."
Our work in Rwanda is supported by: