South Sudan is the world's newest nation but it is also one of the poorest. It is in the midst of a devastating humanitarian crisis, where extreme weather, political instability and global food issues have made access to food extremely difficult.  Around 70 percent of the population are facing extreme hunger. Children with disabilities are the most vulnerable in society.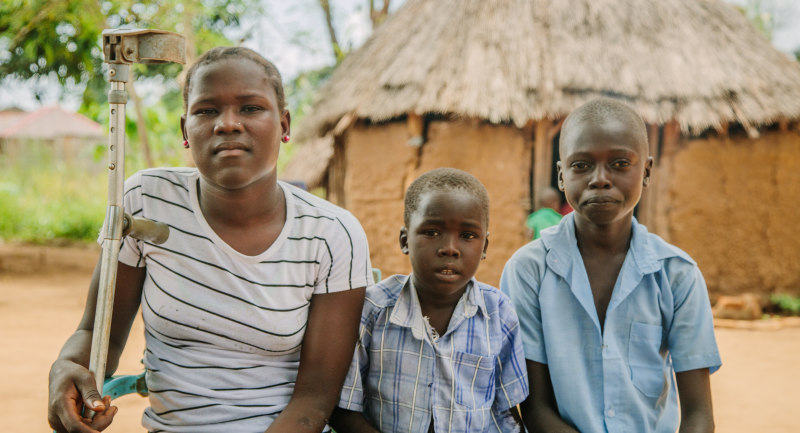 In South Sudan, droughts are often followed by floods. In recent years, the flooding has been extreme and lasted much longer than it used to, badly affecting farming. Disastrous rainfalls in recent years have left people without food, struggling to survive. The suffering has been compounded by brutal civil unrest, ever since the country gained independence in 2011.
We've been working in South Sudan for over three decades. Working with a number of local partners, we're getting life-saving food, medicine and shelter to thousands of families, promoting peace and reconciliation, and helping women affected by domestic violence. Throughout the decades we've had a specific focus on education, improving access to school for those least likely to attend, such as girls and those with disabilities. Today we're specifically supporting those living with disabilities, through schooling or the setting up of a business, so they can live an active life in their community.
Focus of our work
Access to education:

Supporting people with disabilities to access school

Food security:

Ensuring people have access to nutritious food

all year round

Emergency response:

Providing essential support to communities when hit by disasters like drought

Livelihoods:

Ensuring families can increase and diversify their income, providing for immediate needs and allowing them to save for the future

Disaster risk reduction:

Helping communities to prepare for and cope with disasters, minimising the risk to lives and livelihoods.
A snapshot of our work in South Sudan
1986
We began working in South Sudan and over the next two decades ran a number of projects focused on emergency relief, women's training, small-scale enterprise, water programmes, community forestry and vegetable gardening.
2004
We started a three-year programme funded by Lloyds TSB Foundation, focused on improving schools in Kajokeji. Support included school renovations, materials and equipment, tuition and training. In total, 7,894 pupils were supported and 318 teachers trained.
2007
Our four-year project funded by the EU came to an end. With our partner Jesuit Refugee Service we continued to focus on improving the educational system, this time in Yei Payam. Overall the project helped more than 18,000 children to go to school and trained over 165 teachers.
2014
Through our partner SEM, we supported people with disabilities by helping the government and local authority provide essential services and access to rights. We helped over 700 community members and 2,400 people with disabilities. 200 government/NGO staff were trained.
2018
With your donations to our emergency appeal, we provided urgent relief and food aid for three of the worst conflict-hit communities.
2021
Our UK Aid Match Lent campaign focused on supporting people with disabilities living in South Sudan, raising more than £2.8 million, including £1.3 million of match funding from the UK government.
2022
With our partner SEM and UK government funding, we are working to transform the lives of children living with disabilities, supporting them to access mainstream education. We ran an emergency response programme providing relief to those affected by the desperate food situation.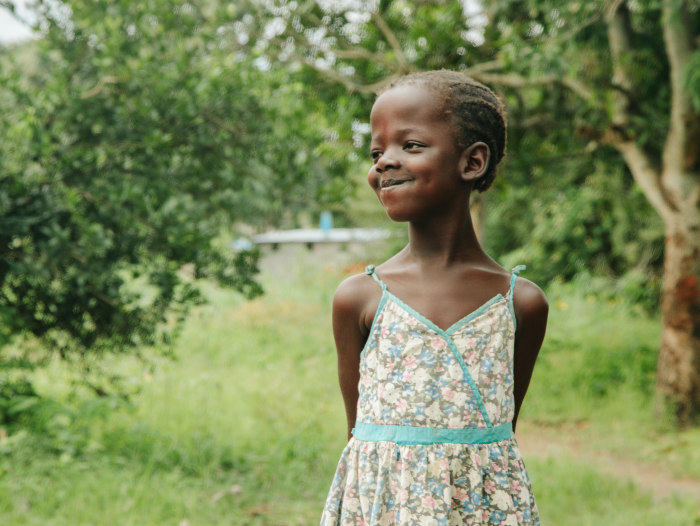 Malia's story
Malia plays with her friends at their family home. Like any six-year-old, she's inquisitive, energetic and full of fun. Until recently, however, Malia was unable to walk.
When Malia was born she suffered from excess fluid in her brain and needed urgent surgery. The excess fluids had caused delay in development, and she was unable to hold her head or sit and stand by herself. She eventually had surgery, but for years her mother had to carry her everywhere. When the fighting escalated, she gathered her young children and fled to safety in the forest, with Malia strapped to her back.
Thanks to our project in South Sudan, Malia underwent physiotherapy to help her to sit, stand and eventually walk. She is now able to able fully participate in everyday activities and walk independently, without an aid.
"I am happy they helped me and I would love them to help others."
Our work in South Sudan is supported by: