Zambia has one of the world's fastest growing populations with the United Nations projecting that its population of 19 million will triple by 2050. But recent economic growth has failed to improve the lives of most Zambians, with more than half the population living below the poverty line. In recent years the country has experienced the severe impacts of climate change, with increasingly frequent and intense droughts and dry spells, seasonal and flash floods, and extreme temperatures. For communities who survive by farming, changes in weather patterns make life extremely difficult.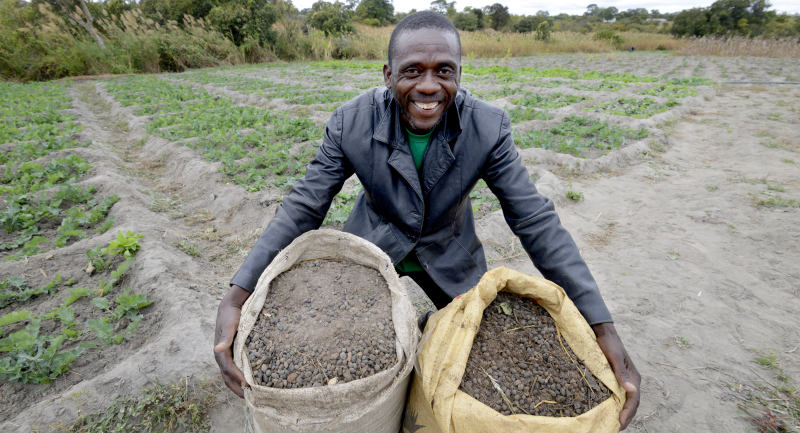 We've been working in Zambia since 2002. We're working with a range of local partners including church agencies to help poor farmers to improve their soil, increase their harvests and generate an income by using simple organic farming techniques such as composting, which will protect the land long into the future. This includes helping them to grow more and different types of crops so that they're able to feed themselves and their families, whatever the weather.
Focus of our work
Food security:

Ensuring people have access to nutritious food

all year round

Access to water:

Helping communities

gain access to water sources

Livelihoods:

Ensuring families can increase and diversify their income, providing for immediate needs and allowing them to save for the future

Emergency response:

Providing essential support to communities when hit by disasters like drought or COVID-19 response

Disaster risk reduction:

Helping communities to prepare for and cope with disasters, minimising the risk to lives and livelihoods.
A snapshot of our work in Zambia
2002
SCIAF began working in Zambia after being asked by Caritas Zambia to support their humanitarian response for people facing extreme hunger.
2008
The first of our Scottish Government funded projects began: running for three years, the project promoted rural food security through sustainable agriculture, helping people to grow more food and sell their crops. The project also ran HIV prevention and care activities.
2012
The Kulima project began. Funded by the Scottish Government, this five-year project focused on sustainable organic agriculture and income generation for 1,350 farmers in Zambia, Malawi and Burundi.
2017
Working with Caritas Zambia and Caritas Kabwe the Scottish Government funded Kumena project began. Over the next five years it worked with over 1,000 families to grow more food, set up savings and loans groups, have access to water and livestock and increase their income.
2019
The 2019 rainy season was very poor with much of west and central southern Africa experiencing extremely low rainfall. Around 2.3 million Zambians were struggling to survive. SCIAF worked with Caritas Zambia, Caritas Mongu and Caritas Livingstone to support 2,437 families.
2020
In 2020 SCIAF worked with all of our partners in Zambia to respond to the COVID-19 pandemic. Partners raised awareness about COVID-19, implemented measures to limit its spread and provided masks, soap and hand sanitizers.
2022
The Scottish Government extended the Kumena programme for an additional year allowing the project team to provide more training and support to over 1,000 families in the Central Province of Zambia.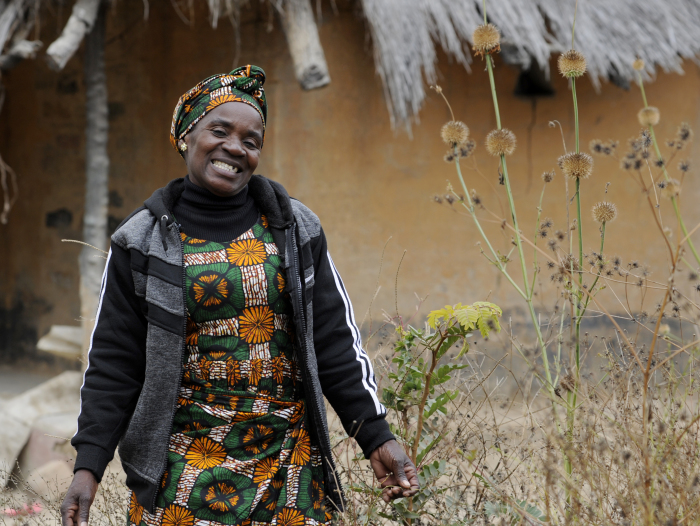 Emeldah's story
"Things used to be very tough. We only ate once a day. We literally had nothing, I thought we might die.

"I now grow many different vegetables and crops. I make enough to eat and sell, and I even give some to others in the community who are in need. By selling some of my harvest, I also bought an animal drawn plough and a solar light system for my house.

"SCIAF also taught me how to read and write. I couldn't sign my name before, it was tough. But now I also teach literacy.

"I have learnt so many skills. I am so grateful. May God bless you since you extended your hands to help me."
Our work in Zambia is supported by: