For six decades, a violent civil war involving guerrilla groups, private armed groups, drug cartels and government forces left hundreds of thousands of people dead and forced nearly seven million to flee their homes. Despite the recent peace agreement, conflict remains and Colombia has one of the highest number of internally displaced people in the world. Poverty and displacement continue to be significant problems.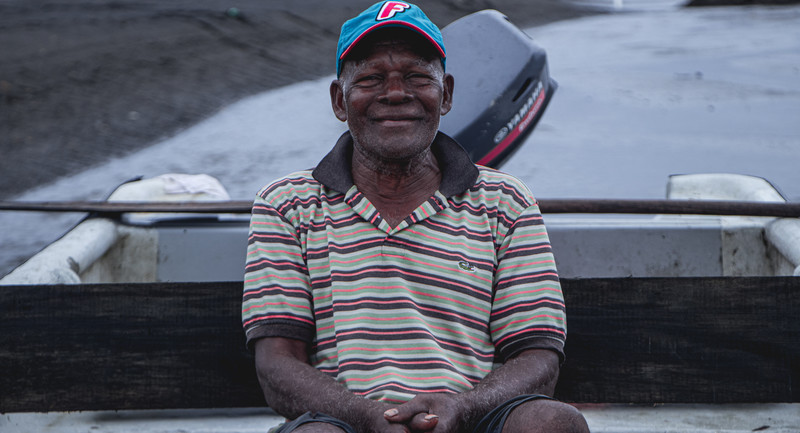 SCIAF has been working in Colombia since 1985, focusing on promoting peace, helping indigenous and afro-Colombian people to preserve their land, protect their land rights, and protect themselves from threats from illegal mining operations. We're helping communities who were forced to flee their homes to stand up for their rights and reclaim legal access to their land. We also provide seeds, tools, livestock and training to marginalised communities, so they can grow more food and support themselves.
Focus of our work
Access to peace & justice: Supporting people to live as families in strong, vibrant communities which are safe, peaceful, and just
Leadership skills: Training new leaders to advocate for their community's needs, focusing particularly on those most under-represented such as women and minority communities
Livelihoods: Ensuring families can increase and diversify their income, providing for immediate needs and allowing them to save for the future
Natural resource management: Supporting Indigenous communities to restore and protect their land, soils, water and environments they live in
Disaster risk reduction: Helping communities to prepare for and cope with disasters, minimising the risk to lives and livelihoods
Humanitarian response: Through our local partners, we respond to the humanitarian needs of the most vulnerable, who are affected by conflict-related and natural disasters.
A snapshot of our work in Colombia
1980
Our work in Colombia began in the 1980s, providing disaster relief from events such as the Armero Volcano Tragedy and supporting indigenous communities to improve their income.
1990
Across the 1990s, we focused on peacebuilding in the country as conflict continued and supported those communities that had been displaced. Projects were also started with children and young people, women, and people with disabilities.
2006
We began working in Chocó in 2006, working with Caritas Colombiana and the Diocese of Quibdó to support local community group COCOMOPOCA, who were looking to secure a legal land title for their ancestral territory in Chocó.
2012
Working with COCOMOPOCA in the region of Chocó, we helped secure the legal rights to 73,000 hectares of land for 2,250 Afro-Colombian families. This ruling gave the communities the opportunity to manage, administer and enjoy their ancestral lands.
2015
From 2014-2017 we ran an EU funded €1.1m programme with three dioceses in Chocó. 11,000 participants from 270 Afro-Colombian, Indigenous and Mestizo communities were supported to increase their autonomy over their ancestral territories and increase food security.
2016
SCIAF-supported work, led by our local partners, resulted in a ground-breaking constitutional court ruling in 2016 (T-622) recognising the River Atrato as a bearer of rights, and committing the State to its conservation, protection, maintenance, and restoration.
2017
Since 2016, we have worked with the River Guardians, community leaders who represent the River Atrato, and have helped coordinate a team of international experts in support of the river (Universities of Glasgow, Nottingham, and Portsmouth).
2019
With support from the Scottish Government, we began supporting Venezuelan refugees in Colombia. Over 13,000 refugees were provided with food, hygiene kits, clothing, emergency shelter and psychosocial support.
2020
For the first time, we started using rugby as the main tool in one of our projects. Working along the Pacific Coast of Colombia, we're harnessing the power of sport to transform the lives of 650 young people and their families through Rugby4Peace.
2021
We welcomed visitors from the River Atrato Guardians, Siembra, and Caritas Colombiana to Glasgow for COP26, to share their experiences of climate change in Colombia, and the role local communities can play to mitigate and adapt to climate change.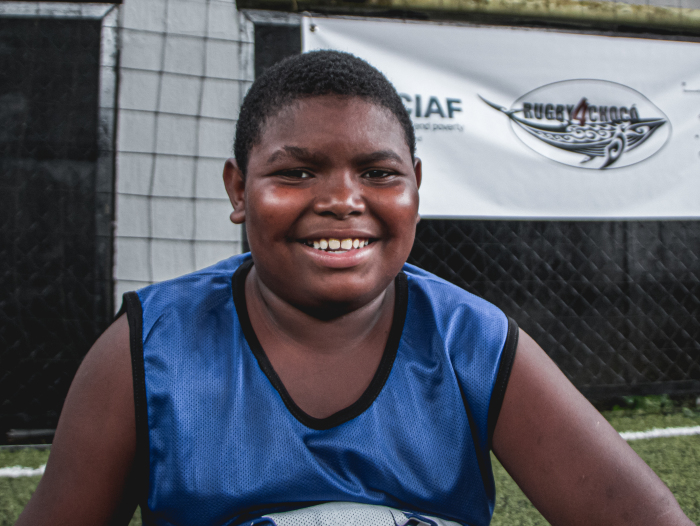 Camilo's story
Camilo was born with learning difficulties and used to struggle to concentrate in class. He needed specialist care and support, but his family couldn't afford the costs. Life was tough, and Camilo would often get frustrated.
However, thanks to our Rugby for Peace project in Colombia, Camilo was able to join other children in the neighbourhood playing sport – he made lots of new friends, learnt new skills and was able to burn off extra energy.
"He gets involved, he plays, he communicates, accommodates his teammates and motivates them," says coach Carolina, "he is always there waiting when I arrive. The kids of Chambacú in Colombia have had difficult lives but they benefit a lot from the programme. When he is playing, his limitations do not exist."
Watch our Rugby for Peace Documentary
Our work in Colombia is supported by: