St Margaret of Scotland
16 November 2023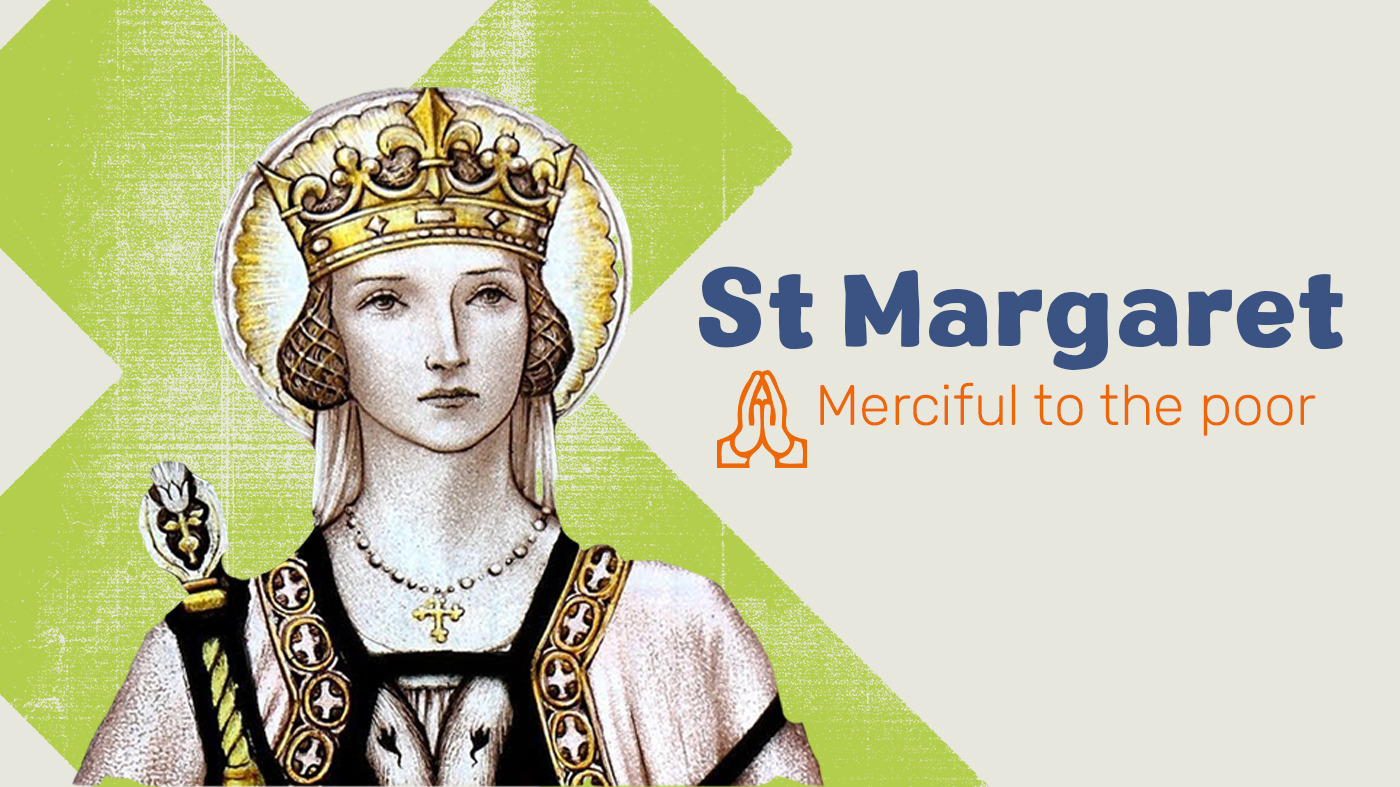 Today we celebrate the life of one of our Patron Saints, St Margaret of Scotland, but what do we know about St Margaret, who lived almost a thousand years ago?
Well firstly, she wasn't born in Scotland. The daughter of Prince Edward the exile, she was born in 1045 in Hungary before her family moved back to England when she was twelve.
Becoming Queen
But Margaret took Scotland and Scots to her heart and married King Malcolm III of Scotland in 1070 and went on to have eight children. Three of her sons became Kings of Scotland and it's said she raised just and holy rulers.
It's also said she managed to soften Malcolm's temper, polished his manners and made him into one of the most virtuous Scottish Kings ever. When Margaret and Malcolm would go to church during Lent and Advent, they made a habit of washing the feet of poor people and giving them money on their way home.
Despite being a Queen, Margaret was a humble, loving and generous woman, taking in the homeless and feeding orphans. Legend says she would sit on a stone outside Dunfermline Castle for people in trouble to find her. Poor people were also able to enter the castle where the King and Queen would feed them!
She also had great compassion for English captives in Scotland, often paying their ransoms and setting them free.
It's because of her kind and caring nature and work with the poor that Margaret is one of our Patron Saints.
Religious influence
Margaret also had great influence in the Church in Scotland. Under Queen Margaret's leadership Church councils promoted Easter communion and, much to joy of the working-class, abstinence from servile work on a Sunday.
In those days, Mass was said in many different dialects of Gaelic, but under Margaret's influence the Mass began to be said in the unifying language of Latin. By adopting Latin to celebrate the Mass she believed that all Scots could worship together in unity, along with the other Christians of Western Europe. Many people believe that in doing this, it was not only Queen Margaret's goal to unite the Scots, but also the two nations of Scotland and England in an attempt to end the bloody warfare between the two countries.
Margaret also introduced a free ferry across the Firth of Forth – so pilgrims could visit St Andrew's Cathedral. This is where North and South Queensferry got their names from!
It took until 1250 for Margaret to be canonised by Pope Innocent IV and she was re-interred in Dunfermline Cathedral.
Margaret will always be remembered for her generous, kind spirit and we are honoured to have her as one of our Patron Saints.
"Knowledge is power. Information is liberating. Education is the premise of progress in every society, in every family."

In March, SCIAF received £125,000 from the Scottish Government's Humanitarian Emergency Fund to provide food and safe water in Ethiopia.

SCIAF has some dedicated supporters – but the pupils and staff at St Patrick's Primary in Auchinleck are amongst the very best!